CTR Press

By

Maryam Tajfar

and

Mel Bolero

Henry Gide
December 2017:
December 7-8, 2017:
VRX 2017
San Francisco
Virtual Reality conference was organized by VR Intelligence. It is a network of decision makers, strategists and tech innovators. The speakers and panelists discussed how to facilitate game changing business connections, the latest opportunities in the immersive tech market, VR/AR/MR, using block chain in VR, location based VR, VR in the film industry, four waves of augmented reality, monetizing VR games, applying VR/AR for use in enterprise and growing place of VR in retail. Soqui from Intel discussed the latest innovations of Intel in VR. He emphasized that what really matters is powering the future. He said: "You leave your soul behind in the fake environment." The speaker added: "Everyone can create its own virtual video, a created reality, and share it with others." He mentioned that their goal was making it easier to make these virtual games and people being able to make their imaginary world looking real. He gave many examples of VR use in the medicine and education. He pointed out that it would be control in the interactive and immersive way. He said: "We know the future because we are building it."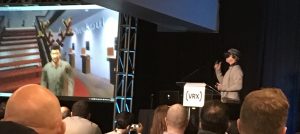 Marc Petit started his discussion with this sentence: "Forget the headset! The key to truly immersive interactive experiences is in the real world." He discussed different VR projects in art in the city of Montreal. He emphasized the need for having believable images that look real. He said: "Interactive contents are center of marketing projects." He added: "VR and immersive technology are changing movie productions, a game changer for the filmmakers." He also discussed lots skepticisms about story telling in VR. He showed a video of a hotel in Montreal that the lobby of the hotel had been turned into a space for experiencing VR and interactive contacts. The next speaker talked about Block chain in VR. He emphasized that using VR helping companies to make lots of money. He said: "Mark Zuckerberg said we want 1 billion people in VR." He added: "Facebook and Google own VR." He discussed the VR's risks to identity and safety, challenges of decentralizing and Blockchain identity. The speaker said: "In VR there's public, semi public and personal space and the identity for each is different."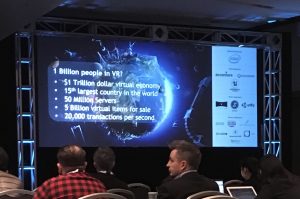 The next panel discussed immersive technology and VR. Greenleaf, a neuroscientist working with VR in Stanford lab mentioned that he had been active in developing clinical virtual reality systems for more than 30 years and several thousands people had gone through a variety of experiments. He also mentioned that using VR by children especially when it is unsupervised can be harmful. He said: "people looks like robots in VR world." He discussed university based research for sharing information in virtual world. He said: " In medicine we don't like to call it "killer app" but we need an app that is very effective." Immersive technology referring to technology that blurs the line between the physical world and digital world that is simulated. Immersive technology creates mixed reality. Jack Nicas in his article in the Wall Street Journal discussed: "What Does Virtual Reality Do to Your Body and Mind?" In his article he pointed out that virtual reality can change the way a user thinks or behaves. Some virtual reality experiments can cause headaches, nausea and eye strain. The next speaker talked about Facebook interface. It is building brain computers interfaces that enabling typing just with the mind without invasive implants. Their team planning to use optical imaging to scan the brain a hundred times per second in order to detect people speaking mutely in their head and then translating it into the text. Immersion into VR is having physical presence in a non physical world. It is created by surrounding the users in images and sound in VR. According to the researchers new immersive technology can lead to isolation and more spending online leading to less in person interactions. They call it "virtual escapism". According to Vorderer, because of unsatisfactory life circumstances, people tends to leave the reality and it is escapism. David Carr in his book discussed how VR makes the problem worse.
Rachitsky from Oculus talked about challenges in marketing for VR. She said: "marketing in film industry is as expensive as making the films." Kennedy talked about monetization of VR in film industry. Zim from Sony talked about top challenge of interactive live capture. He said: "We need to be agnostic and function as the game controller." He mentioned that they had spent days sitting with the lawyers discussing the legal rights and VR. He said: "VR has to include different point of views and how to live in others people's shoes." Schilowitz from Paramount said: "New generation, the next driving force in creating content, are less interested in traditional media." He added: "70% of VR will be in Asia." People in Japan, China, India and Germany are more interested in robots and VR comparing to the people from the rest of world. Some cultures don't like it and considering it escapism of reality.
Tim Merel from Digi Capital talked about the four waves of Augmented reality and AR/ VR revenue and native AR apps innovations. He said: "Alibaba is the biggest investor in Magic Leap." He mentioned that so far this year it had been over $2.5 billion investment in VR/ AR. The panelists talking about true interactivity for the users in VR emphasized the effects of audio and sound on VR experience. Tam Armstrong, CEO, Polyarc Games said: "audio as a narrative tool is crucial for VR experience." He discussed mainstream acceptance and mentioned that TV is mainstream, but VR is not mainstream. (C) CTR Press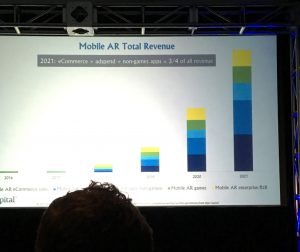 December 4-7, 2017:
SWAT 4 HCLS Conference
Rome, Italy
Semantic Web Applications and Tools for Health Care and Life Sciences conference was a platform to discuss how to apply web based information systems and semantic technologies in health care and life sciences. The panelists and speakers talked about swat4hcls limitations and benefits. The attendees were researchers, developers and users of clinical informatics, chem informatics, drug safety, data science and bio computing. The speakers discussed how semantic web applications and linked data technologies used in eHealth. Semantic web is an extension of the World Wide Web by the World Wide Web consortium. It provides a common framework allowing date sharing across applications. The organizing committee included experts from Columbia University, USA, Ospedale Policlinico San Marino, Italy and ISTC National Research Council, Italy. The program committee included researchers from the Scripps Research Institute, USA, Enterome, France, Fondazione INGM, Italy and Universidad de Murcia, Spain.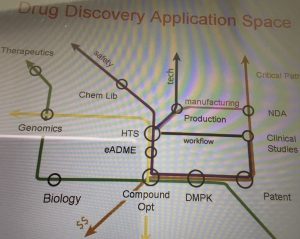 Diaz and Garcia discussed optimization of semantic data transformation using high performance computing techniques. The speaker explained that increasingly life science semantic web is illustrated by resources available in linked open data cloud. He pointed out that their experience with SWIT showing that the time requirements for generation of database would be longer than expected. The keynote speaker Robinson discussed HPO, human phenotype ontology that is an international standard for computation over human disease. He explained how they developed algorithms and software for genome sequences analysis and exome sequencing for novel disease gene identifications. Three components of HPO project are disease phenotype annotations, phenotype vocabulary and the related algorithms. The process of sequencing exomes and genomes has resulted in the discovery of many novel disease associated genes.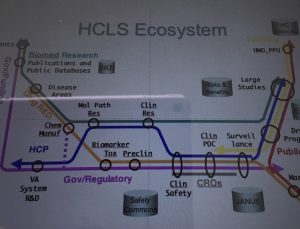 Miller talked about visualization of metabolomics data in biological networks. The speaker explained that not all measured metabolites can be linked to what is present in biological pathway models. He explained how by using wikipathways they could create a directed network of all metabolic reactions. They have developed a new solution to visualize the biological pathways in sparse metabolomics data. The next speaker discussed knowledge graph network features for drug repurposing. The speaker explained that semantic knowledge graphs connecting different biological databases and demonstrating the relationships between genes, pathways and diseases. Euretos Knowledge platform is a commercial database that integrates over 160 different resources. (C) CTR Press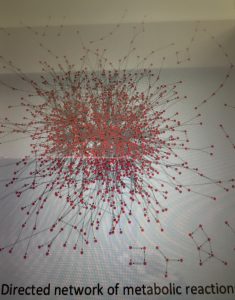 November 29- December 1, 2017
IOT, AI & Blockchain North America 2017
Santa Clara
Artificial Intelligence, Internet of Things and Blockchain conference focused on the combined ecosystem and how this combination leading to business innovations and efficiencies. About 10,000 attendees, 400 exhibitors and 200 speakers gathered together to discuss developing for the IoT, IoT innovations & technologies, connected industry, data & security, developing Blockchain applications, Blockchain for enterprise ,ICOs, Tokens & Crypto finance, AI in the enterprise and AI for developers.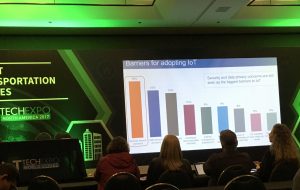 Gruner discussed transforming the edge. He talked about edge computing solutions. "Can the applications work together?" He explained how to select and choose security technology and how to use Vulnerability assessment technology. He showed many slides about Network overlay /Intrusion prevention switches and discussed the ways of preventing intrusions. He said: "They want to steal, corrupt or manipulate your data." He warned about the social media and added: "They see your LinkedIn profile and see your connections and start intrusions." He mentioned that Machine learning can detect it, but can't prevent it: "out of normal behavior of intruders for stealing your data." He emphasized Investing in security technology, Intrusion detection and self learning cyber defense. He pointed out that Simplicity is very important especially in deployments: "It should be simple to use." The next speaker talked about Immune system security. She discussed how the project for cyber security was created in University of Cambridge in the UK. She explained how AI and machine learning automate threat detection and response. She mentioned that Security team struggling to interact and detect intrusion. She talked about Immune system model and approach for identifying good & bad: "Complex understanding and using algorithms and finally moving away from prescribed approaches." She emphasized using machine learning for analyzing the patterns.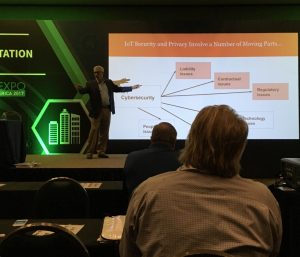 Randy Sabett discussed how to prepare for the future of IoT security. He talked about what organizations should do to mitigate anticipated security risks. He started his speech with talking about his professional journey to an attorney job and its dark side. He mentioned some quotes from his favorite movie: Sneakers(1992) and discussed liabilities and issues involved. He emphasized the data sensitivity and how data should be dealt with. He said: "people who control data run the world." He talked about Health information and how it is handled, EU privacy regulations VS US privacy regulations and Data breach. He mentioned that in the US, the focus is on the reactive aspect, but the EU approach is quite different, expanding the notion of what personal information are. He discussed Scrutiny from FTC and other regulations in the US and "What happens if something goes wrong." He explained Privacy by design and Security by design. He said: "Marketing people love to collect and never delete data and the sensitive information stay there unnecessarily." He pointed out that in M&A, security is a big issue. He emphasized: "Plan for the best but prepare for the worst." He said: "there are two type of companies those that are breached and those that haven't found out yet."
The panel discussing blockchain in the health care system talked about moving patient data within the blockchain, data sharing in the healthcare and patients privacy issues. The speaker emphasized identity issues and said: "Still there is a single person that has the information." He added: "Identity is at the top of pyramid and then data." The panelists discussed Pharmaceutical and having the distributed way of collecting and managing data. The speaker said: "There are lots of people in the middle that have access to the patient data." Samuel from Halliburton talked about getting more value in oil and gas sector through digital shift powered by IoT. He discussed putting lots of sensors and using connected devices in Oil and gas wells and Components of the oil field and added: "Cyber security is an issue and there's concern."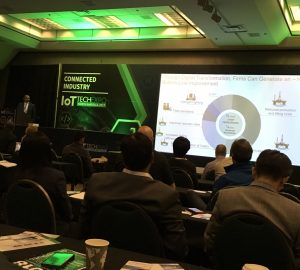 GDPR, General Data Protection Regulation was the topic discussed by many speakers. They pointed out that its deployment would have considerable power over the personal data back to European consumers. A requirement of GDPR is that organizations must cease the dissemination of user data and halt the data processing by all the third party entities and it can be achieved through cryptographic keys. Especially the companies are not allowed to use consumers data for ad targeting by any third party. (C) CTR Press
November 2017:
November 15-19, 2017:
NCSS 2017
San Francisco
NCSS conference was organized by National Council for the Social Studies. It was the 97th annual conference. NCSS was founded in 1921 and it is the largest professional association in the U.S. that is devoted to social studies education. It serves for teachers of history, civics, geography, political science, sociology, economics, psychology and anthropology. Conference theme for this year was: expanding visions and bridging traditions. Teachers, educators and education professionals attended a variety of sessions to find out the answers to this question: how can teachers help students to understand the rapidly changing world? The following topics were discussed: interactions of language, learning and social studies, reading and writing history in social studies education, media literacy through the eyes of public media, human rights education through creative arts, reading like a historian, expanding visions on the mind and behavior, how to teach controversial subjects, engaging students in thoughtful analysis, freedom of speech in a digital age, visualizing data: infographics and media literacy in the digital age.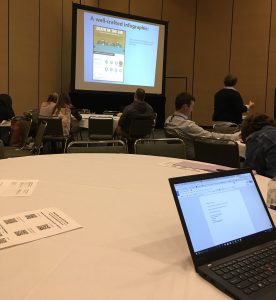 The panelists in the session: "we the voters" discussed many short films about voting, civic engagement, political system and media literacy. The speaker talked about mediocracy and how to decode media bias. She explained how social media are driving public opinion. She said: "This approach: us against them cannot find a solution." She criticized the unnecessary amplification of social media. She added: "Facebook algorithm setting up to change the minds of the users to Facebook's benefits." She pointed out that young people must think about sources while reading Facebook and Twitter posts. " In digital age everyone can be a creator of a content. The next speaker discussed a project for students to compare headlines in different media and how they choose different terminology for the same story. In the project her students compared headlines on NBC News, CNN and FoxNews. She empathized the importance of thinking critically about news. Then the speaker showed a short video about a journalist investigating paid lobbyists hired by corporations to influence legislations. The panel in infographics and social studies session talked about developing visual literacy. Infographics are visual representations of information and it helps faster and more clear understanding of the information. A picture is worth more than a thousand words. The speaker showed slides from WHO website and analyzed the data. In the next session a film was shown featuring Gino Bartali, Italian cycling hero who risked his life to save innocent lives during WWII.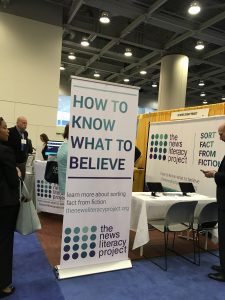 In the session, watchdog role of a free press, Adams from the News Literacy Project pointed out that a free press requiring a news literate electorate in order to function optimally. The News Literacy Project was founded by a Pulitzer winning investigative journalist, Alan C. Miller in 2008. The speaker explained that fake news are shared by some people who are not news literate. He emphasized the need to be a part of solution not a part of problem. He pointed out that journalists should seek the best obtainable version of truth. He said:"Press freedom affects other freedom." The speaker from Reveal that had been an investigative journalist for forty years and recently working on public radio said: "News is what they don't want you to find out and the rest is just public relations." Diaz from SF Chronicle said: "Your kids are glued to the social media and they are drowning in the news; but where is the factual one?" He emphasized the importance of crafting the headline and added: "if it is not clicked on and read it would be useless." He gave some examples of State run shelter and foster homes for kids in California. He said: "Fostering failure that they have to call police instead of handling the situation themselves; the Foster care shelter people calling police nine times a day and it is difficult for them to empathize with the kids." David wolfford from Kentucky in the session, a free press, a free people recommended watching the film: The most dangerous man in America. Tyrel Rose from California talked about Fake news and Media consumption. He said: "China doesn't have a problem with fake news; their problem is the real news."
In the exhibition hall, The American Revolution Institute providing Imaging the Revolution, a series of lessons that challenge students to analyze works of art from a critical perspective. Social Studies School Service has an image of Napoleon Bonaparte on its 2018 issue. It has many books on the history of the U.S. and Europe. United For Human Rights representative explained that they are advancing universal human rights through Education. Bill of Rights Institute exhibitor explained that they help the next generation to understand the freedom and opportunity the constitution offers by offering free classroom-tested online curricula to teachers and students across the country. The News Literacy Project helps young people to know what to believe through their checkology virtual classroom. The founder of Peace Works Travel explained their projects of expanding understanding beyond the rhetoric: "putting a human face on the headlines." (C)CTR Press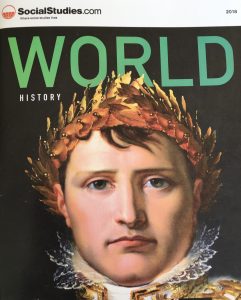 November 14-15, 2017:
Structure 2017
San Francisco
Structure conference was organized by Newsweek International. IT professionals gathered together to discuss the latest in IT Infrastructure, the composite hardware, software, network resources and services, different IT solutions and services, the revolutionary cloud TPUs, machine learning workloads, transformation of the businesses, IT enabled operations, data centers, enterprises resources planning, network administrators and user centric IT services development. The speaker from Facebook talked about the global infrastructure for 2 billion people. He discussed pushing vendor infrastructure to the edge and creating a special solution. He talked about the way Facebook approaching connectivity and its in-house designed data centers on next generation networking system. He explained how he started building infrastructure in Facebook since 2009. He said: "We scaled very fast and invested very aggressively." He added: "we designed our own data center by optimizing every layers." He explained the Open compute project that have been started in 2011 and bringing more flexibility to the Facebook's infrastructure. He also discussed Bringing enormous WiFi network platform system, Wireless urban network and Making open sources project. He emphasized the need for more data intensive and more machine learning in Facebook. He said: "Facebook, Microsoft and Google are part of open compute and all need to scale and be cost effective."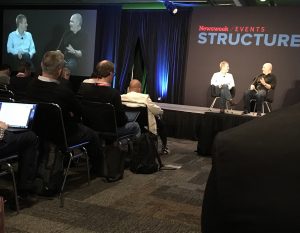 The next speaker was from Google; he talked about the journey toward perfect infrastructure. The speaker explained how Urs is in charge of cloud infrastructure and how it decides the future state. He started his talk with this sentence: "Google advertising is doing very well." He added: "Endpoint has been changed and Cloud is maturing." He discussed Linux revolution, Micro services management and CNCF. Most of the major U.S. based cloud providers are CNCF member and have an active Kubernetes strategy. Kubernetes or K8s is an open source system for automating deployment and scaling container applications. It was originally designed by Google and now donated to CNCF. Kubernetes API uses JSON over HTTP. The speaker discussed Android voice recognition and Building specialized infrastructure that Google is heavily investing. He explained GPUs vs TPUs. He said: "Microsoft has better marketing than us."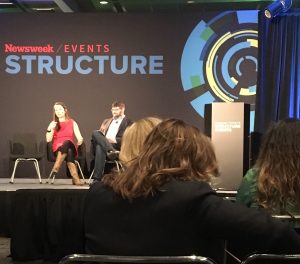 Cockcroft from Amazon discussed the ways of building on AWS. He talked about Old computing VS modern computing. He pointed out that new needs are customization and customer tracking. He explained Startup spaces and added: "Creating the market is the hardest thing in startup." He discussed Managing dependencies and said: "The worst decision is not taking any decision." The next speaker pointed out that there will be 60 billion connected devices within 6 years. He discussed how AI, medical imaging and advanced genomics fundamentally changing processing of data. He talked about hyper scaling of data centers by 2025. He discussed next generation memory technology and said: " There is a transformation going in the larger enterprises", "There is no point to do the same things we did twenty years ago." Watson Genomic Analytics is a cloud based service for analysis and looking for variations in the human genome. A genome is a complete set of DNA within a single cell. Genomics aiming at the quantification of genes and it is involving the sequencing and analysis. Julia Grace talked about scaling infrastructure. She talked about using Slack. She pointed out that Startups focusing on product engineering, Rebuilding and replacing critical components. Slack allowing users to join through using a specific URL and it has been turned into a platform. Koehler from IBM talked about cloud, beyond infrastructure. He said: "Advancements in IT and tech without cultural change can have serious negative impact." (C) CTR Press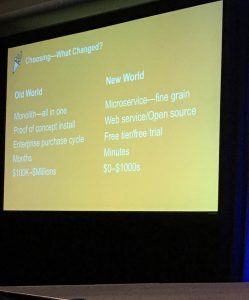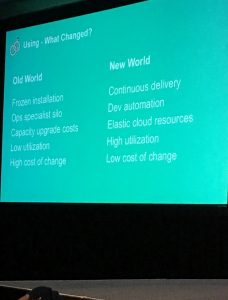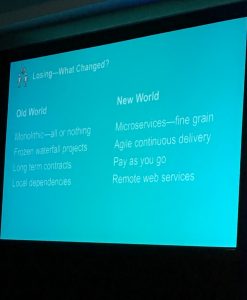 November 8-11, 2017:
CODEmotion
Milan, Italy
CODEmotion is considered one of the largest tech conferences in Italy. It has more than 30,000 developers in its network. This conference was about developers and the platform that connect tech communities, IT companies and professionals. The aim was coding the innovative future for tech community worldwide. The speakers discussed languages, architectures, AI, Machine Learning, cloud, big data and block chain.
Reinders discussed GitHub Pages. She explained that GitHub Pages allowing the users to build a website based on text files. The speaker mentioned that GitHub Pages are designed to host project Pages from a GitHub repository. She also discussed its usage limitations: the source has limit of 1GB, limit of 10 builds per hour, bandwidth limit of 100GB per month and the published pages is smaller than 1 GB. Cerbo talked about Kotlin programming language and its application. He explained that Kotlin runs on the Java Virtual machine. It is part of its design to inter operate with Java code and it supports programming with functions. Its application is Android development. The speaker explained that Kotlin and its improvements for null pointer safety and infix notation. "It is intended to improve code readability." Sciolla discussed Clojure 1.9. The speaker explained that it delivering an experience in the dynamic language: clojure. The speaker pointed out that this new tool helps encoding and a function that accepts a sequence of strings that are increasing in length.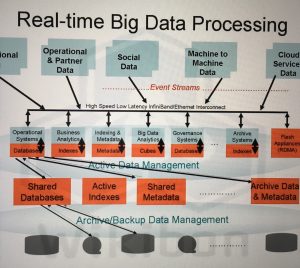 Santomaggio from Erlang Solutions discussed building distributed applications with Erlang. The speaker explained that in a distributed system with Erlang nodes, if the node goes down, the application will be restarted at another node. A distributed application can move between nodes regardless on which node it executing. The speaker also talked about application controller process and mentioned that the processes are part of the Kernel application. The next speaker talked about the future of functions, especially the recent functions as cloud-enabled Functions as a service (FaaS). "FaaS is a disruptive change to the way the software is built."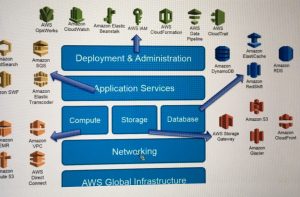 The next speaker discussed Big Data systems. Monitoring a distributed system using tools such as: Spark, MongoDB, AWS and Web service were discussed. AWS helps to build sophisticated applications with increased flexibility and reliability in database storage and content delivery. Poccia talked about machine learning. The speaker explained machine learning challenges, deep learning and how to build a machine learning model that works. Marazzi talked about legal issues of Blockchain. The speaker explained that blockchain is an open distributed ledger. It has privacy issues because blockchain is a public ledger that can be viewed by anyone. It is possible to find out about the identity of the people involved in the transaction. There is also the issues of taxation and money laundering. Using blockchain can create challenges to the existing contract law. Lawyers need to learn about creating blockchain contracts to deal with the legal issues. The critics expressing their concerns about"decentralizing" aspect of blockchain technology and the current laws does not regulate this new entity. (C) CTR Press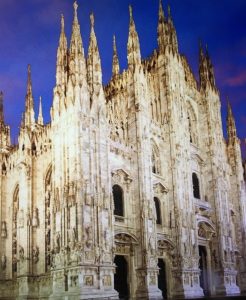 November 8-12, 2017:
N. I. C. E USA 2017
San Francisco
Each year NICE Festival bringing some contemporary Italian fims in different parts of the world. Italian cinema is unique especially for its genius film directors such as Federico Fellini, Pier Paolo Pasolini, Michelangelo Antonioni, Vittorio De Sica, Sergio Leone, Luchino Visconti and Giorgio Diritti.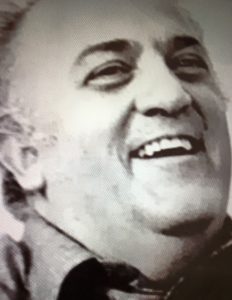 Fellini is considered one of the greatest and most influential filmmakers of all time. "Otto e mezzo" 8 1/2 is a 1963 film directed by Fellini. It's title refers to Fellini's eighth and half film as a director. Some reviews considered it his best movie. Fellini was a Catholic Christian and disliked authoritarian institutions and he believed in dignity of the individual human being. Pasolini was a poet, writer, journalist, philosopher, novelist, playwright, painter, political activist and a film maker. He was the most misunderstood film director of all time. He was a real victim of false accusations both during his life and after his murder. He also co wrote the dialogue for Fellini's La dolce vita. Pasolini directed the movie: "il vangelo secondo Matteo", The Gospel According to St. Matthew in 1964. It was a cinematic rendition of the story of Jesus Christ. In 2015, the Vatican City newspaper, L'Osservatore Romano called it the best film on Christ ever made. Giovanni Vian, editor in chief of the Vatican newspaper and a historian of Christianity praised Pasolini's film as " a symbol of Francis merciful Church." Pasolini' last film: "Salo" is very controversial and deeply philosophical.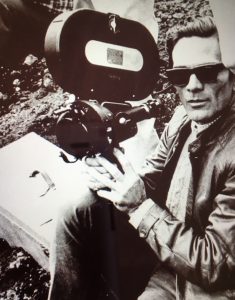 Antonioni was a screenwriter, a short story writer, editor and film director. He is best known for his trilogy: L'Avventura (1960), La Notte (1961), and L'Eclisse (1962). His trilogy was widely influenced great directors such as Stanley Kubrick and Ingmar Bergman. De Sica directed the movie: "Ladri di biciclette", Bicycle Thief in 1948. It is a very powerful film. It is considered one of the best film for portraying human values. Leone was a producer, screenwriter and film director and is well known as the inventor of Spaghetti Western. He directed the film: "C'Era una Volta il West", Once Upon a Time in the West, a very charming movie with great casts such as Charles Bronson and Claudia Cardinale. The music by Ennio Morricone added to its charm considerably. Leone's style in this film is very original, different and interesting. The movie features long, slow scenes in which there is little dialogue and little action. It is done in a very interesting way that attracts the attention of the enthusiastic audience. Visconti directed the film: L' innocente in 1976 in which he portraying issues of infidelity and betrayal.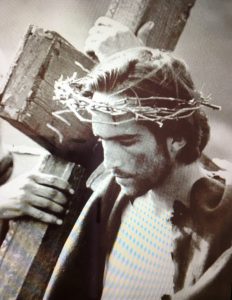 A contemporary Italian director, a genius indeed, is Giorgio Diritti. He is also a competent screen writer. He wrote and directed the masterpiece: "L'uomo che verrà", The Man Who Will Come in 2009. Maya Sansa played powerfully and it added to the charm of the movie. The movie portraying a child growing up in northern Italy during World War II. It is a must-see movie.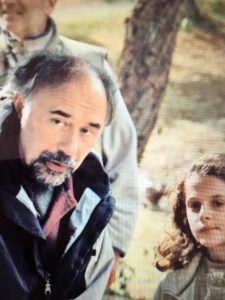 First Try, La Prima Meta, documentary directed by Enzo Negroni was shown during the NICE Festival. It is a documentary that takes the viewers inside the Bologna correctional facility; some of the prisoners while serving out their sentences engage in a sport that most of them have never played before and competing against veteran Italian rugby team visiting from outside. It is an interesting documentary when it takes the viewers into a journey to see the human side of the prisoners, but it lacked the strength that talented Italian film directors from Bologna present. The viewers watching them in the group to play Rugby, but there was no deep insight into the life of the any of prisoners; the viewers were in the dark; they didn't know why they are there and what journey they have gone through. Thanks to the unique Italian cinema, viewers from around the world have the chance to watch high quality and interesting movies and enjoy it. High quality movies respect the viewers, their time and their intellect. (C) CTR Press
November 1-3, 2017:
Scaling the Future, LISA 17
San Francisco
Scaling the future Conference was about the overlaps and differences between both modern and traditional IT operations and engineering in three areas: culture, architecture and engineering. Industry leaders, scientists, technicians, developers, software and hardware engineers, operation professionals, systems engineers and data scientists from around the world gathered together to discuss incident responses, performance monitoring, infrastructure automation and container architecture. The conference was organized by USENIX, the Advanced Computing Systems Association. Its mission is supporting the advanced computing systems and researches with a practical bias, encouraging computing outreach and providing a neutral forum for discussion of the latest technical issues. 17 USENIX staff: 15 staff are female and 2 staff are male.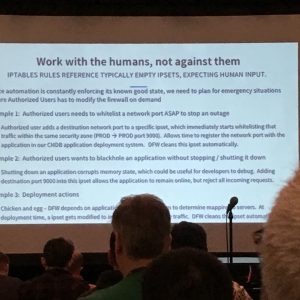 Provost from Yelp talked about Never Events. He explained that a Never Event is a serious incident that arises from the failure of systemic protection barriers. He pointed out that the main criteria for defining Never Events is that they can be prevented and they have the potential to cause serious harm or death of patients in NHS, the UK national health service which established in 1948 to provide free healthcare to the UK residents. He mentioned that their list of Never Events including wrong site surgery, retained foreign object procedure, wrong body part removal and wrong eye injections. He explained that it can be preventable by systemic protective barriers both physical and time and place barriers. He said: " human actions are vulnerable to human errors." He explained Yelp DAR levels and usefulness of their database to prevent bad experiences by using right software. He talked about a bad experience when five different backup systems failed and people's data were lost. He added: "RCA, Root Cause Analysis, is done during 60 days after incident. WHO surgical safety checklist process is obligatory for medical professionals." The speaker mentioned that DDOS attacks or security breaches are outside of the SRE team's control. He explained that when a patient dying of cancer is not a Never Event, but when a doctor or a nurse giving wrong type of cancer medication to a patient is a Never Event. He added that many systems engineering companies have their own guidelines for reporting events and the incidents must be studied carefully in order to prevent the future occurrence. Ballance talked about automating system data analysis using R. He explained coding the patterns and usage VS utilization. He discussed GGplot as a grammar of graphics for generating charts. The speaker showed a demo for making the charts better by writing some new functions. He pointed out that data analysis is about communication. He said: "The R language providing a rich tool set and automating the process." He discussed R data analysis pipeline that can generate reports via documents. Buck talked about WordPress maintenance and trouble shooting. She emphasized running regular backups and updates at least once a month and updating plugins and theme.
Svoboda from LinkedIn talked about where to put the firewall in the architecture, the vertical network architecture and Multiple clusters per datacenter. The speaker mentioned that distributed firewall has altered LinkedIn's system and its security operations. He mentioned to combine system automation with firewalls has altered the physical network design and at the same time strengthen the security protection. He said: "Mix and match hardware, data processing and staging should be done." He added: "Integration of DFW with LinkedIn code deployment system has built a unique security profile to secure the hosted services." "LinkedIn has thousands of applications and we want to limit the applications. We need to be able to work with operation by empowering it." Then he explained decommissioning the datacenter in a controlled manner and said: "IPv6 support comes for free." He emphasized: "Work with the humans, not against them."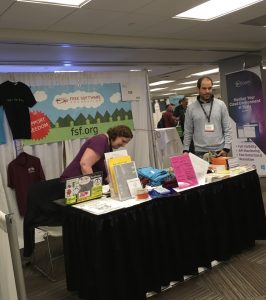 Ciciliani, consultant at Pythian talked about deployment of a multi region MySQL architecture. He explained that a multi region database allowing the applications to be read by default from a local database while writing on the master region. He discussed Database traffic routing, ProxySQL configuration and differences between the architecture in the U.S. region and Europe region. Then he explained the failure scenarios including region failure and proxy layer failure, MySQL master failure. He mentioned that no HA at the proxy level and read-only based roles are the limitations. This conference was well organized and it provided a variety of speakers from both sides: government, corporations, and the critics. The audience had the chance to hear different sides of each story. Matt Cutts, Acting Administrator at US DigitalService talked about stories from trenches of government technology. He mentioned that he had worked for Google for more than 16 years and he left Google to work for the government. He explained that the US Digital Service working for the improvement of government services including healthcare and veterans getting their benefits. He pointed out that the veterans' medical records may be vanished if the doctors choose the wrong document type when recording their files and as the result the veteran cannot get the healthcare benefits. Then he talked about Bug bounties and how risky they are. He said: "In 24 days they found 138 bugs." He explained how a 17 years old teenager had found the security vulnerabilities in Pentagon. He also mentioned they had worked to shorten the N-400 application processing time.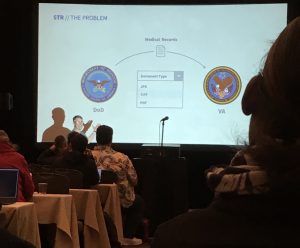 Corey Quinn, a cloud economist from the Quinn Advisory Group talked about the danger of creating celebrities in Tech. He discussed the danger of taking what you hear from professionals in giant companies as a source of absolute truth. He showed a slide demonstrating the logos of giant companies and said: "You are not these companies." He pointed out that a very great and innovative talk by a professional from a well known company doesn't necessarily mean that their solutions apply to your environment. He focused on applying context to each talk. He talked about pressure and regret in giant companies and said: "Remember the human. People, humanity and empathy are important." He added: "Tech isn't about tech, it is about people." He discussed Golden images vs configuration management. He explained how to attend a conference and being a good attendee. He said: "There is one way to change the culture of a company and it would be firing everyone!" He discussed how to manage with the constraints you have in your environment.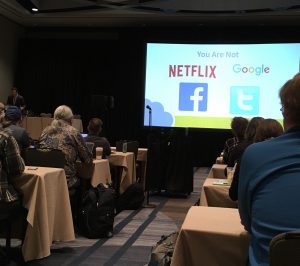 In the exhibition hall, a variety of companies exhibiting their latest products and services and some of them were recruiting too. Linux professional Institute is the global certification organization for open source professionals. Electronic Frontier Foundation protects rights and defends freedom on the electronic frontier. EFF develops privacy badger software to enhance privacy and secure communications online. It automatically stops non-consensual trackers. Zimbra Suite provides real time backup and restore push synchronization. Free Software Foundation, FSF's representative explained that the free doesn't mean free of cost but it refers to freedom, free of tools that breach privacy. He said: "Privacy is impossible without free software." Loom systems by this motto: Fearless IT- Myth or Truth? offers an Al powered Log Analysis Solution." (C) CTR Press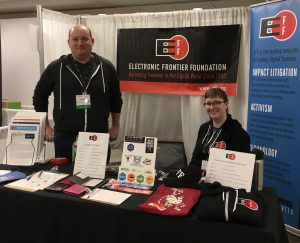 October 30- November 1, 2017:
UX Next 2017
Palo Alto, CA
UX Next Conference was organized by Informa that is a business intelligence and academic publishing group. The professionals from a variety of industries attended the conference to learn how to work smarter and make better business decisions. UX, user experience is about how to use a particular product or service and different aspects of human and computer interactions. UX is considered as a dynamic process because it is modified constantly. The influencing factors in UX are current and past experiences, properties of the system and the usage context. Reine talked about unlocking the power of the place and the opportunities for place-aware apps and contextual UX. He explained how the location can be a piece of context and how to create a dynamic place aware apps. He said: "Foursquare does much more than Pokémon Go by drawing limits and consuming data."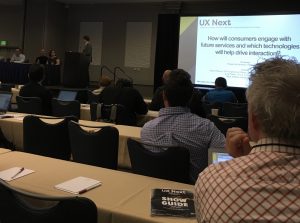 The next panelists discussed the ways of engaging the consumers with full service and which technology help to drive interactions. They talked about how to drive chat bots. Meadows pointed out that privacy and trust factor are very important. He emphasized providing Open source and added: "We begin every conversation with chat bot." The speaker said: "What is private cannot be published to enhance users values." He mentioned that in healthcare people prefer to talk to bots rather doctors and tell the bots about their problems, especially AIDS patients. The speaker noted: "Most people likely trust others who are like them so they like bots that behaving like them." Eyal Pfeifel, CTO of imperson talked about teaching computers how to interface with us. He emphasized the process of monitoring the approval rate of each conversation and Trust. The speaker pointed out: "If somebody asks chat bot: are you a chat bot? It should be honest and say yes to keep the trust." He added: "Engineers cannot control conversation flow and this must be done by experts, human experts who know the users and can make a proper conversation; mere technology is not enough." He emphasized role of human involvement, Issue of trust, and the problems of using the users data that "will be a turn off for the users". He said: "The most honest way of gaining information about users is directly asking their permission and not tracking &collecting data without their permission."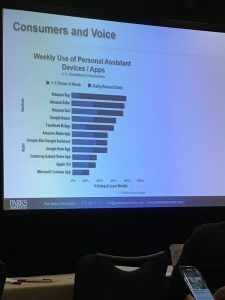 Gritzinger talked about reprogramming the drivers: how automotive UX is changing the interactions with the vehicles. He said: "It is not just vehicles are being reprogrammed but the drivers too." Sappington discussed Voice Interfaces in Action. He talked about Google voice recognition, Apple Siri and Natural language processing. In his discussion with the panelists he asked about the data about US consumers VS European consumers attitudes about trust and privacy. The EU Directive on Data Protection of 1995 mandated national privacy law for data protection with the emphasis of this principle: privacy is a human right. (C) CTR Press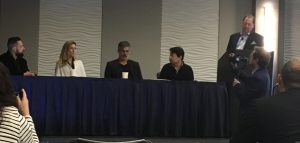 October 2017:
October 23-25, 2017:
SHRM's Diversity & Inclusion Conference 2017
San Francisco
Diversity & Inclusion Conference was organized by the SHRM, Society for Human Resource Management. It has more than 280,000 members in 166 countries. It is considered as the leading provider of resources for HR professionals. This society has 575 affiliated chapters. It was originally founded as the American Society for Personnel Administration and now its headquarter is in Washington, D.C. The HR managers and the professionals implementing a D&I program, the recruiters and directors of D&I gathered together to discuss the latest initiatives and strategies. The speakers discussed ways of incorporating D&I in the organizations, creating inclusive and culturally competent workforce, rethinking diversity visions, how to hire both fit and diverse, dealing with questions of nationality and citizenship, future of diversity, improving relationships and designing EDI, Equity, Diversity and Inclusion priorities.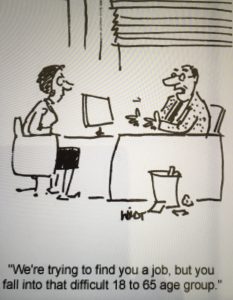 The panel discussing equity, diversity and Inclusion talked about Equity in Architecture resolution passed at American Institute of Architects that called for retaining talents and diversity actions. They emphasized creating measurable goals and measuring progress. The speaker mentioned that AIA has more than 90,000 members; 77% of the licensed-architect members are male and 71% of them are white. Ostrander talked about EDI training for AIA members; Unconscious bias and implicit bias and how to develop Self-assessment tools. He pointed out that they just make recommendations and they have no enforcement for diversity in firms. Some argue that sometimes in Human Resources departments the merit is less emphasized than diversity that can lead to hiring underqualified candidates for the goal of keeping more diverse environment and also some emphasize more merit-based and less connection-based recruitment as a solution.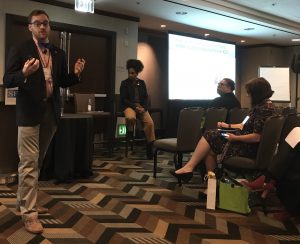 In Exposition, a variety of diversity and inclusion providers talking about their products and services. Representative of PeopleFluent talked about a personalized data-driven diversity solution that they designed for achieving diversity goals. Developing diversity-specific metrics for the talent management challenges. HudsonMann representative explained that they provide iPlan and web based solutions for affirmative action and federal contractor compliance. AARP representative talked about age discrimination and said: "age isn't just a number and older employees have more knowledge and wisdom; they are more reliable and more adept at problem solving." ( C) CTR Press
October 15-17, 2017:
INCOMPAS SHOW
San Francisco
INCOMPAS Conference was organized by INCOMPAS, the industry association that represents communication service providers and their partners. It also presents analysis to keep its members updated on what's happening in Congress and state legislatures, FCC and state regulatory agencies. This year, the INCOMPAS show collocated with the Northeast DAS & Small Cell Association. The keynote panelists discussed the impact of the current net neutrality. The session was moderated by Chip Pickering, CEO, who was in the Energy & Commerce Committee and a member of the Telecommunications Subcommittee. The panel discussed the future business implications of changes in FCC policies and Congress legislative. Pickering said:"No distortion of free market will be tremendously successful." And he added: "Industry is controlling the regulatory. Congress and FCC are active on key issues such as net neutrality and broadband and infrastructure deployments." Net neutrality is the principle requiring that internet service providers and governments that regulate the internet to treat all data the same. There has been an extensive debate whether neutrality should be required by law in the U.S. The supporters of net neutrality regulations argue that broadband providers can use infrastructure to block internet applications, but the opponents believe that net neutrality regulations can deter improvement of broadband infrastructure. According to the critics, without net neutrality, ISPs will be able to charge more for the access and also to block the contents they don't like. In June 2016, the U.S. Court of Appeals ruled in favor of the FCC's Open Internet Order. Now the new FCC Chairman, Pai, is seeking to dismantle net neutrality. His critics argue that his plan would threaten open Internet policies. Senators accused FCC chairman, Pai, of abandoning the public interest.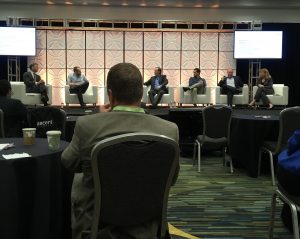 The next panel discussed SD-WAN. The speaker talked about using the technology to sell the product and the customizability of SD-WAN and how to expand its footprint. SD-WAN focuses on providing software applications routing to the wide area network on national or international basis. But SDN is focused internally within the service provider's core network. SDN is programmable by the customer or user, but SD-WAN is programmed by the vendors and behind the scenes. It enables improved quality and performance and also it provides agility and flexibility. SD-WAN enabling multiple links in active configuration and provides a high level of security. Kurt Raaflaub talked about the impact of SDN on fiber management and orchestration. He discussed emerging business cases and revenue opportunities by SDN controlled fiber management.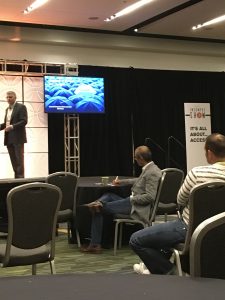 The next panelists discussed opportunities and impediments for network builders. McKee pointed out that consumer demand is driving the businesses. He said: "Small cell is called magic box by us. In New York we have 200 small cells in Manhattan." Milo Medin, VP, Access Services, Google fiber talked about unlicensed spectrum vs licensed spectrum. He said: "Rural area spectrum allocation, if it is not used, cannot be used by others." He discussed Protection from interference and said: "I have the problem being an engineer not a lawyer." He pointed out that customers had the same purchasing power for the last 20 years. He said: "it is controversial, but I don't see the path for 5G in the US." He added: "How much money you can extract from a household. I don't see it works."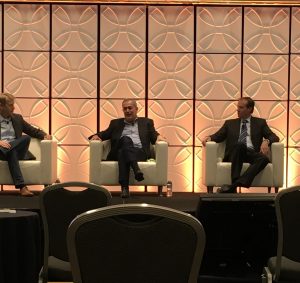 The panelists discussing small cells pointed out that each carrier looking for 8000 small cells in each city by 2020. Schmidt mentioned that San Francisco is the most dense city in the U.S. He pointed out that some people don't like the sight of poles and boxes in front of their houses. Small cells are low powered cellular radio access nodes operating in licensed and unlicensed spectrum that have a range of 10 meters to a few kilometers. Towers, poles, boxes and cells are installed adjacent to public roads have aesthetic and environmental impacts as well as public health and safety issues that needed to be addressed by local governments. In the exhibition hall, the representatives of many companies talking about their services. Mapcom systems representative explained that it is a software development and services company focused on delivering tailored solutions for communications service providers. Enter is based in Milan, Italy; it provides network services for enterprises and carriers. ATL communications offers outsourcing of customers porting department entirely. NEDAS is a community of HetNet professionals dedicated to development of infrastructure enabling IoT everywhere. (C) CTR Press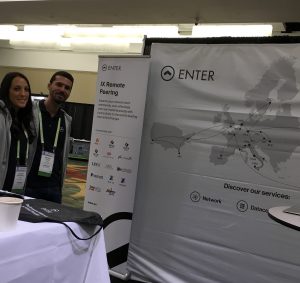 October 11-12, 2017:
Privacy and Data Protection Conference
Paris, France
Privacy and data protection conference was a unique opportunity for in house privacy professionals and strategists gather together and discuss the latest privacy regulations and how to manage the privacy issues through evolving data privacy landscapes. The main topic of discussion was GDPR: General Data Protection Regulation that is regulation EU 2016/679. It aims strengthening and unifying data protection for all individuals within European Union and is supported by the European Parliament, the European Commission and the Council of the European Union. This regulation was adopted in April 2016 and it will be enforceable from May 25, 2018 and it is directly binding and applicable. It took four years of debating to be approved by the EU parliament and the non compliance companies will face heavy fines. It applies to all the organizations and companies both within the EU and outside of the EU if they are offering goods or services to the Europe or monitoring the behaviors of EU data subjects. In case of non compliance, the companies can be fined up to 4% of their annual global turnover. The speakers discussed the topics such as managing consent issues, conducting PIAs, data mapping and GDPR.
The panel discussing how GDPR can change the businesses talked about the need of determining what data each company is collecting and who owns that data. They emphasized the importance of improving transparency and understanding the tools for driving efficiency into data mapping processes. The speaker mentioned that from May 2018 all websites will undergo considerable changes in order to comply with GDPR. He discussed the challenge of collecting consent and improving users experience. The next speaker talked about the role of the data processing in GDPR. She emphasized using the right data processor and the importance of integrating accountability into the processes. Then she discussed the target audience for ePrivacy regulations. She talked about the future of cookies and electronic marketing barriers. The next panelists discussed how to establish a culture of compliance within the companies and at the same time managing stakeholders expectations. The speaker talked about big data and GDPR and the ways of finding balance between big data and data protection. Then the next speaker discussed GDPR and the cloud and the need for creating the right policies about data management based on cloud. Then the ways of minimizing the risk of a breach were discussed.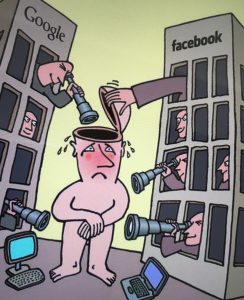 There was a discussion about the companies using the users data in order to create personalized targeted advertisements and selling them to the advertisers. The concern about privacy issues was discussed. Article 12 of the Universal Declaration of Human Rights clearly states that everyone has the right to the protection of the law against interference in privacy. Open source service is provided free and it is allowing customization to the source code and the privacy of the users is respected. But some Google applications process the users data by advertising services to provide targeted advertisements. Facebook knows exactly who the users are, what they do and what they like and what they dislike. All these data can be used by a variety of companies for targeted advertisements. Most of the time the privacy policies are so complicated and the users don't read them or if they read them they don't understand them properly. So they just agree with all the policies of the companies. The critics argue that search engines and social media seem to be free but in fact there are hidden costs; tracking data provided for targeted advertisements bring huge financial benefits to the giant companies. They argue that browsing of webpages should be carried out trace less by open source anonymizers. Data about each user's purchase can reveal a lot about the individual's behavior and habits. And tracking data is used by companies to target users with marketing according to the users' personal preferences. Also location tracking capabilities raise privacy issues. Collecting location data is raising privacy concerns because each individual's movement traced and recorded.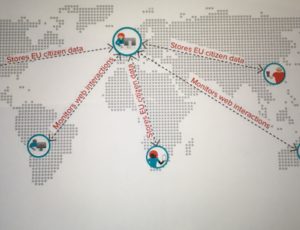 The next speaker talked about the difference between a data processor and a data controller. She mentioned that data processor is an entity for processing personal data on behalf of the controller that is determining the purpose of the process. She pointed out that requests for users' consent should be intelligible and easy to understand and free of any ambiguity. The speaker added that parental consent is required for processing the personal data of children under the age of 16. Under the GDPR, there will be a legal obligation for notifying the individuals if anonymized data is breached. A name, a photo, an email address, bank details, any post on the social media, medical information and a computer IP address are all considered as personal data.
(C) CTR Press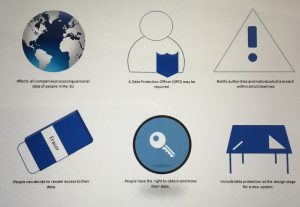 October 1-5, 2017:
Oracle OpenWorld 2017
San Francisco
Thousands of attendees and hundreds of thousands online visitors attended Oracle OpenWorld conference. The main topics of the discussion in keynotes and a variety of educational sessions were leveraging Cloud for innovation, the latest breakthroughs in technology Cloud Applications, Cloud Platform and Infrastructures. Larry Ellison, CTO, Oracle in his keynote speeches discussed next generation of Oracle advancements across SaaS, PaaS, and IaaS. He talked about the way Oracle advancing trusted cloud infrastructure and applications. He discussed Oracle management and security cloud as well as Oracle autonomous database. He pointed out that currently companies loosing the cyber wars. He talked about the data was stolen from Equifax. He said: "Data didn't show up on the dark web for sale. It was a very sophisticated cyber crime." "They are facing inquiries from regulators and Congress. All the IT team resigned." He emphasized the necessity of setting up a new system to defend the information. He said: " Lots of intelligent agents were called out of fields worldwide because of the massive data breach." He added: "The current strategy is not working. Nothing is wrong with open source if you can manage it properly. Our data stores are extremely complicated and it is hard to manage." "We don't take security very seriously. We have to do something about it." He talked about gigantic European Defense contractors and European Union discussing security issues and noted: "you should look at the all system vulnerabilities." He said: "Security in our data center should be prioritized. Automated security and security patches should be automatically fixed in autonomous system." He also mentioned that machine learning needs huge amount of data to detect abnormalities and that data can be used to train computer to distinguish normal pattern from abnormal patterns.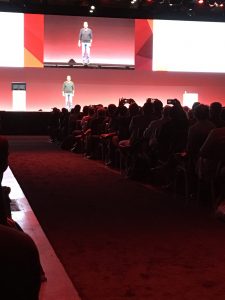 Oracle Cloud executive panelists discussed infrastructure as a service, platform as a service, software as a service, data as a service, chatbots and blockchain. They talked about the innovations on different platforms and AI integration. Eric Kirby discussed Machine learning that harness the data, Blockchain as the service operated by Oracle, Transaction management of blockchain and importance of the third party data. He said: " Talking of data as a service that is on demand; on demand model we should choose the right data model."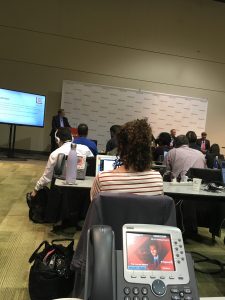 Joseph Gordon Levitt, director of HitRecord, actor and screenwriter talked about creating content. He emphasized on creating contents with each other. He discussed creating with each other VS just connecting with each other. He pointed out that people connecting on social media currently just benefiting the giant companies such as Google and Facebook. He suggested three alternatives: instead of focusing on crowd, free culture and socializing, he suggested focusing on community, fair compensation and collaborating. He said: "it is not about money, but the principle. Online communication needs to grow up."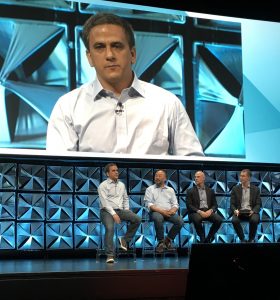 The panel discussing leveraging NetSuite talked about the transforming the process and how it is fitting in the Oracle landscape. The speaker talking about the future of global supply chain management in the cloud discussed the ways using NetSuite can drive the global expansion of the U.S. businesses. The next speaker discussed NetSuit subscription billing and revenue management and how they can be built to act as one. The panelists discussing the topics facing SMB owners over the next year talked about opening new markets, increasing revenue and enhancing risk. Gaston Perez from Brazil emphasized dreaming big and he explained how they started the business of IT process company working in healthcare in 2011 in the low income neighborhoods in Sao Paulo and how they grew and currently managing 46 clinics in Brazil. He mentioned that they reinvent each year and their "growth is three times per year." Shriber, Marketing Solution, LinkedIn discussed talent in workforce. He pointed out that LinkedIn using real data VS survey data. He said: "People lies in the survey but you can find the truth in the real behavior." He mentioned that San Francisco has the largest surplus of the skills is technology and its Deficit is in the healthcare and education. He emphasized the value that employees can bring to the company.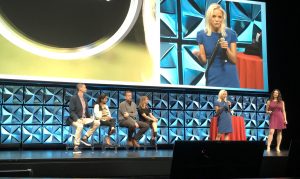 In the exhibition area, a variety of companies, from the small startups to Fortune 500 companies exhibiting their latest products and services. The representative of cuba Platform explained a high level, open source Java framework for enterprise applications and how their platform enabling the rapid development of complex enterprise applications with rich web interfaces. The exhibitor from Expensify company explained how they reduce workload and saving hours of manual work with automated two ways sync and configurable settings. (C) CTR Press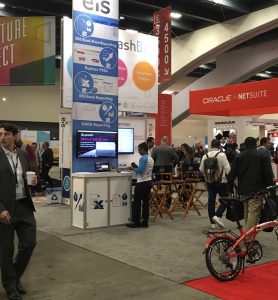 September 2017:
September 26-27,2017:
Structure Security Conference 2017
San Francisco
Structure Security conference was organized by Newsweek and International Business Times. CIOs,business leaders, executives, experts and investors in a variety of industries and different companies ranging from startups to Fortune 500 companies gathered together to discuss the process of adopting technology, the increasing risks, how to find out vulnerabilities, how to combat the cyber threats, building security in the public cloud, virtual machines and containers, the IoTs, how to select the appropriate security technologies, improving the effectiveness of the security operation centers, security as part of companies' cloud computing strategies, the ways cyber criminals think and operates, social engineering processes, securing the technology infrastructure, evaluating security challenges, integration of AI in the security systems, network virtualization and machine learning in cybersecurity.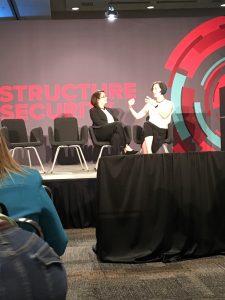 Worley from McAfee talked about security workforce crisis and the increasing cyber security threats from phishing to ransomware. She pointed out that over 200 universities offer cybersecurity courses. "Cybersecurity is a real challenge for the corporation." She emphasized the need for finding and hiring talents to encounter hackers. She mentioned that all the employees in different level should understand the threats and look for the vulnerabilities. She pointed out that sometimes hiring interns in the cyber team could result in the data breach when they go to work in other companies with the data gathered. She said: "There is the wrong perception that women are not suitable for cybersecurity jobs." She added: "change your company if the culture is like that." She emphasized the risk of downloading apps that exports the person's data to the hackers. Bob Lord discussed the process of major breaches. He said: "Security is not a technology problem, it is a process problem." He emphasized the necessity of understanding what and how the cyber criminals work. He said: "Government increasingly employing cyber criminals to do the job." He added: "Nobody expect the Spanish Inquisition." He explained the process of Custom coding in Yahoo, Pursuing the perfect over the good and the Encryption technology. He said: "If you think security team makes you safe, you are wrong; each person has individual responsibility." Flynn talked about how Uber thinking about connected cars security. He mentioned that he previously worked in Facebook and Google. He pointed out that Cars are part of large eco system. He said: "We, in Silicon Valley, have a narrow vision, I grew up in overseas." He explained Uber leadership role in Securing cars and collaboration. He praised the Security team in Tesla and mentioned they share data with them. He explained Updating privacy setting in Uber, Regulatory and data protection.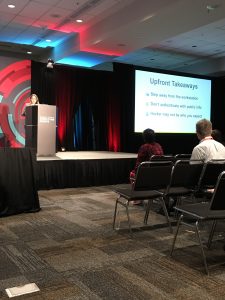 Nasrin Rezai from GE talked about the process of securing the companies. She pointed out that Cyber professional should think about the safety and said: "10 seconds of optimization can save hundreds of dollars." She discussed OT side VS IT side. Information technology, IT, focuses on the technologies for the processing of information and operational technology, OT focuses on the devices and software for manufacturing processes, they used to be seen distinct. She emphasized the importance of understanding the concept of agile. " Agile, the iterative approach to software delivery that builds software from the start of the project, instead of trying to deliver it all at once near the end." Myers discussed the way the board members look at the cybersecurity. The speaker emphasized looking at cybersecurity risks as business risks not technology risks. He said: "There is not such a thing today that a company is too small to be attacked by hackers." He added: "Resilience not security : how resilient you could be to Handel the attack." "Find out where the data risk is, every business is different, how vulnerable each segment could be." He explained acting out of fear vs acting with preparation. He said: "Insurance companies are making money. You can't rely on insurance alone."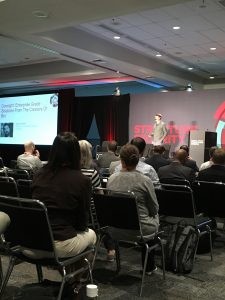 Rachel Tobac talked about social engineering and how it is one of the most severe threat to security and privacy. She explained the process of being compromised with social engineering. She discussed the methods of mining data and exploiting behavior to own the companies targeted. She said: "Anything we post online could be used by hackers." She explained the hackers activities and DEFCON conference in Las Vegas. She said: "The attacks start with phishing email that will be used later." Social engineering can be used to fool a business into disclosing customer information mainly by using the information in the social media. Phishing technique is used to obtain private information. The phisher sending an email that appears to be from a legitimate business requesting verification of information. The emails usually contain a link or attachment asking the receiver to click. The link goes to a fraudulent web page that seems legitimate with company logos. It is easy to make a website looking like a legitimate one by mimicking the HTML code and logos. Another technique is called " water holing" that capitalizes on the trust users have in websites they regularly visit. Targeting a person who avoids clicking a link in an email, but following a link on a website. The attacker prepares a trap at the favored watering hole. The attacker test these websites for vulnerabilities to inject codes that infecting the visitor's system with a malware.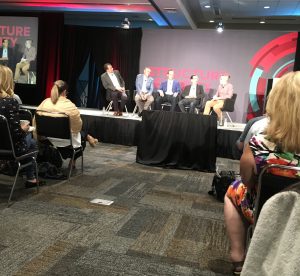 The speaker discussing treat hunting pointed out that Cybercrime is more profitable than drug trade. He said: "Cyber criminals using better tactics. We need to do it through evolution. Tactics without strategy is the noise before defeat." Edna Conway talked about driving security across the third party ecosystem. She said: "I am a Catholic and believe that only God makes things from nothing." She emphasized Flexible holistic architecture of manufacturing security. She said: "Think about what Italian mother told you: never judge a book by cover & you get what you paid for." She added: "The currency of future is not data, it is trust." The panel of venture capitalists discussing funding the future of security innovation talked about the opportunities that smart founders are chasing. Alex Doll said: "Without right expertise it is dangerous to fund." Yoav Leitersdorf said: "We are looking for more innovative plans in app security." The next speaker, David Mahon mentioned that Bar Association bringing the chief security officer of the company in the case of data breach and asking them if they had a plan and how implemented them and they may ignore the lawsuit as the result. Davis pointed out that Data infrastructure changing the world and pace of innovation is rapid. He said: "Data Can be mishandled in cloud." He emphasized the need for Constantly monitoring suspicious activities and said: "Some threats are in cloud and some are in the endpoint." Scott Chasin talked about the problems in enterprise security. He said: "Machine learning cannot save us or replace the human involvement in security." (C) CTR Press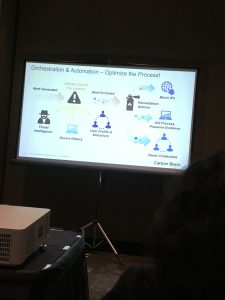 September 21-22, 2017:
California Nurses Association Convention 2017
San Francisco
California Nurses Association was founded in 1903 and is the premier organization of registered nurses. National Nurses United with approximately 150,000 members in every state, is considered the largest union of registered nurses in U.S. history. Its goal is advancing the interests of care nurses and patients, exercising influence over the health care industry, promoting the economic interests of all direct care RNs, expanding the voice of direct care RNs and patients in public policy and supporting quality healthcare for all. NNU affiliate members advocating guaranteed healthcare and Medicare for all Americans. One of its main campaigns is Medicare for All. Healthcare costs increasingly passing the individuals "breaking point" and at the same time, insurance companies continue to benefit. NNU supports a healthcare system that requiring each state to set up a comprehensive healthcare service for all through single payer system that "would end health disparities and control costs and assuring that everyone has equal access to an excellent healthcare.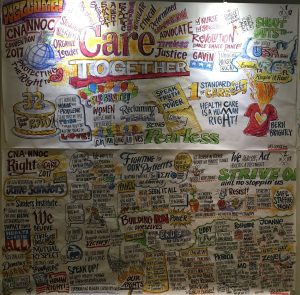 One main topic of discussion was the introduction of S.1804, the Medicare for All Act of 2017. The speakers pointed out that we abolished slavery and got voting rights for women, "we can have Medicare for all too." Sen. Bernie Sanders started his speech by this sentence: "Nurses are backbone of our healthcare system." He added: "They cannot function effectively in the dysfunctional healthcare system." He pointed out that healthcare for all is a right, not a privilege. He said: "we are sick of the greed of pharmaceutical and insurance companies." He mentioned that top five drug companies made billions of dollars last year. He emphasized the necessity of providing appropriate healthcare for the employees of the small businesses. He said: "people should be able to do the job they love, not staying in a job just for the healthcare it offers." He emphasized Medicare for all men, women and children in this country. He pointed out that pharmaceutical companies spending millions of dollars to defeat the Medicare for all. He finished his speech by saying: "the struggle goes beyond the healthcare."
Nurses are also on the frontline of combating environmental pollution that worsening chronic diseases. The registered nurse response network sending hundreds of direct care nurse volunteers to help with first aid where they are needed most. They fully support a Medicare for all healthcare system, single payer and they regard a guaranteed healthcare as a human right. (C) CTR Press
September 18-19, 2017:
Talent Innovation Summit 2017
San Francisco
Talent Innovation conference was organized by Lever, a company founded in 2012 and currently supports the hiring needs of 1400 companies around the world. Gender ratio in Lever is 50:50 and it is committed to building the culture of inclusion in the workplace. They provide the recruiting software for team growth and focusing on transparency and humanity; their aim is to re-imagining the way companies think about growth. Lever's emphasis is on talent and teamwork. The talent acquisition suite drawing the entire team to source and hire top talents. It has been designed with integrated ATS + CRM functionality in order to build stronger relationships and engagement. The speakers and panels discussed a variety of topics such as Silicon Valley bubbles, HR tech implementation, recruiting fundamentals, sourcing and pipelining, data driven and collaborative recruiting.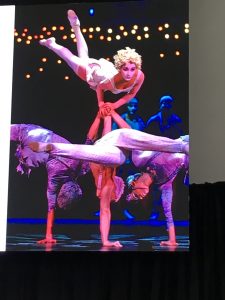 After live performance by Cirque du Soleil's crew, Xavier Gladu, head of recruiting strategy talked about designing candidate and employee experience in Cirque du Soleil. He discussed how they have redesigned all the contacts with their employees. He mentioned that their Headquarter is in Montreal and their employees are from 80 different countries in the world. He explained the process of launching "Mindfulness program" and "Peer to peer connections" program. He discussed how they have redesigned the employees feedback tools by sending four engagement surveys each year and then revising the results and analyzing them by each team and using the results as the guide for the future decisions.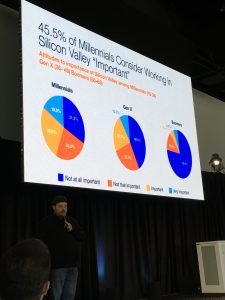 Matt Charney, Executive Editor, Recruiting Daily discussed Silicon Valley bubbles and what the rest of the world can teach Silicon Valley. He mentioned that no longer Silicon Valley is considered as the sole center for tech talents. He discussed how other places such as Salt Lake City are becoming "hubs for startups and new softwares. He said: "the bubble surrounding silicon valley is they are too busy with ridiculous valuations on ridiculous startups, to take a step back and realize what's going on in the rest of world." He added: "Many people in tech industry are not aware about the world's attitudes towards Silicon Valley." He added: "I asked some people in Texas about Silicon Valley, they said where the hell is this valley?" He described his experience during his visit to a barbershop in San Francisco as unbelievable: " When I went to the barbershop they asked me to download two apps!" He added: "What's wrong with calling to book a table in a restaurant?" "why some people are obsessed by using apps for everything?" He discussed the reasons why the startup fails and how all the investments wasted. He demonstrated a slide about the attitudes to the importance of Silicon Valley among Millennials (18-34), GenX (35-49) and Boomers (50-65).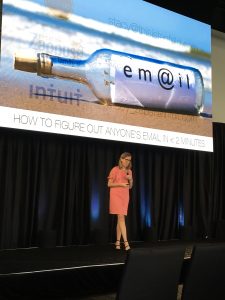 The next panel discussed HR tech implementation. They talked about their companies and how through HR tech implementations they built drives adoption with a successful result. Vlastelica pointed out that changing management is a solution that always works. He said: "Speed and quality components are the most important elements in the hiring process." Melissa Thompson said: "Don't build your system on broken processes; use Lever for the recruitment." Lever simplifying the applicant tracking system for recruiters and hiring managers and it helps them to focus on their candidates. Talent Acquisition Suite connecting end to end recruiting process and all the persons involved, as the result it will be more human. Pike pointed out that implementing the system in different countries should be adjusted to their cultures. She said: "The adjustment is very important. The benefit of Lever in each country is different." Podobnik said:" Understanding your audience is the most important element when you want to put a new implementation."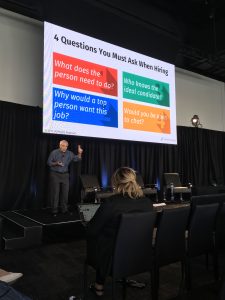 Zapar talked about recruiting fundamentals. She explained how to find the right candidate and how to contact them. She said: "Never pick up the unknown caller." And she added: "Is there anything that didn't come up today?" should be the last question in any job interview." She pointed out that application black hole is when the applicant doesn't hear from the recruiters. Lou Adler talked about his 40 years of recruiting experience. He mentioned that his first job was engineering in nuclear missile. He mentioned that the following questions are the best for the job interview: describe a major accomplishment, describe a project, what were the big challenges?, describe the changes made, did you achieve a plan? And how did you grow as a person? As the recruiter and researcher in Netflix, Jones said: " what is important is who you know, not what you know." the connections and referrals play a significant role in the process of recruiting. (C) CTR Press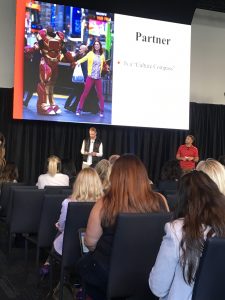 September 18, 2017:
Forecast 2017
San Francisco
Forecast conference was organized by Base, a company that has raised $54 million in capital from a variety of ventures with the mission to power a scientific sales experience. Forecast conference gathered hundreds of data driven salespersons, executives and decision makers to discuss "the future of sales as a science." The panels and speakers focused on discussing how to make data driven decisions in the industry. They talked about the challenges the sales leaders, sales representatives and the rest of the sales team facing. They discussed the followings: how by using data and science, the sales team can increase their effectiveness, the future of customer relationships, how to unlock 100% CRM adoption, data driven coaching, how to inspire sales team and achieving a successful sales presentation. The speakers discussed leveraging technology and focusing on managing a meaningful relationship and how the sales leaders can deal with the pipeline issues.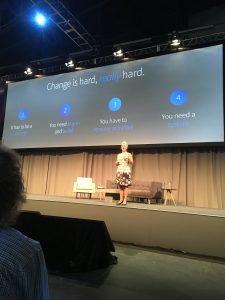 Svane discussed the future of customer relationships. He emphasized that context of customer relationships should go through different parts of the organization. He said: "Business today relies on retaining customers otherwise we would be out of business." He pointed out that revenue depends on customer relationships and retaining them. He said: "customers don't want to be slaves to the system of the company." The speaker explained the process of optimizing the journey for the next generation of customer management. He mentioned that using tools and softwares by the business is not enough for the success and customer. "It is so easy for the customers to switch." He emphasized the need for sales team and customer service team working together and be prepared. The representatives of Base customers talked about the technologies they use for using CRM on a daily basis by their sales teams.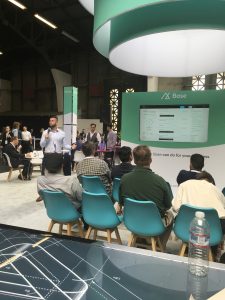 Borsetti form LinkedIn discussed data driven coaching. She explained the way managers can empower sales reps by providing effective data driven coaching. She demonstrated many slides and said: "The data is important and to have a great coach is crucial in sales." The speaker discussed sales coaching and its value and how to retain the customers. She pointed out that data driven sales coaching leads to making better business decisions. She said: "You need to build a system." She explained "Money Ball": finding the ones doing it the best and turning them into heroes in the company. She emphasized the process of changing the culture of sales team. The next panel pointed out that "Life is too short to work for dudes." They mentioned that aim must be self development then earning money. "You can have a job and earning lots of money and even get promoted but you haven't developed at all and stayed at the same level."
The sales leaders panelists discussed the ways of inspiring the sales teams to be effective and successful. They explained the key elements of effective sales reps talks. They pointed out that sales leaders and sales reps have different job functions; and sales leaders main job function is motivating the sales reps. Harvey said: " Having the right mentality for managing a team and bringing fun to the process is very important; it is the manager job to inspire the team." She emphasized getting the team focus on the pipeline, new business and participation. The speaker pointed out that avoiding complex procedures and choosing simple ones effectively works. She said: "Knowledge, quality and skills are what a successful sales team needs." Bendov explained the way artificial intelligence can be used to transform the process of sales communication. He discussed the right time of mentioning the price by sales reps: " when should be the pricing ,during the call or the beginning of the call?" He discussed many examples of outcome analysis by AI for Talking VS Listening during conversation between sales rep and customer. "Pause, breath and listen to the customers will be more effective." He mentioned that the difference between top sales people who had done most of the deals is they start the conversation with the most important thing and always finishing the conversation by talking about the future. (C) CTR Press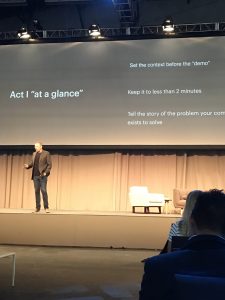 September 12-14, 2017:
GSMA Mobile World Conference 2017
San Francisco
Mobile World conference was organized by GSMA Foundation that was created one decade ago for demonstrating the social impact of mobile technology. It supports the UN Sustainable Development Goals(SDGs) as a guide for how businesses can build a more sustainable world. The participants were from around the world and from various companies; they gathered to attend the latest presentations from some of the world's biggest operators on the progress of the next generation of mobile. The panels and speakers discussed content strategies, digital inclusion, forward thinking, future of artificial intelligence, 5G, smart cities, autonomous cars, digital economy, blockchain, cybersecurity and consumer data and privacy.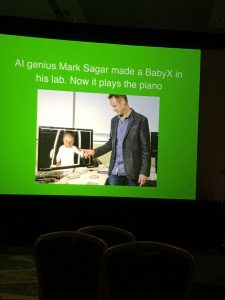 John Kunze, VP, PayPal talked about the digital inclusion and transforming lives around the world. He mentioned we live in a bubble. He discussed Consequential payments and bill payment. He said: "50% Americans have zero saving." And he added when something unexpected happens, they face a huge problem. He emphasized the empathy and staying true to our values. The speaker from Nova credit talked about the new initiative for new immigrants and how to bring credit from their countries to the USA. He talked about his personal experience and how his parents who had good credit in Philippines but they couldn't bring that to the US, faced many problems at the beginning. He discussed the process of identity proving and bringing financial history. The panelists talked about digital identity and mentioned difficulties of identifying children and the fact that biometrics don't work for children. They discussed new forms of identification, Advancement of 5G and Security VS accessibility. The speaker said: "People have the right to be anonymous" and he discussed GDPR. The new EU Data Protection extends to all foreign companies that processing data of EU residents. And how it implements data protection, the regulations and the cost of severe penalties.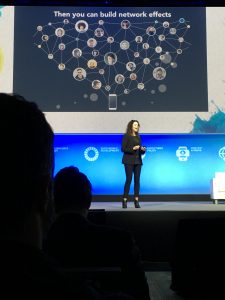 Gordon Mansfield, VP, AT&T talked about 5G Networks. He discussed the journey from LTE to 5G. He said: "We need to miniaturize LTE capabilities; scaling is very important."
He discussed Virtualization of the network and emphasized the need for openness and putting software algorithms. He said: "5G from Network perspective is evolution, not revolution." Peterson emphasized Standardization and said: "preparation is key to success." He added: "To make sure you know the challenges especially the security and data protection." CTO, T mobile said:"By 2020 we will make a nationwide network of 5G." Fuetsch, AT&T labs, talked about the opportunity, Speed and scale and said: "4G is rock and 5G is the orchestra." And added: " in the medical term: 4G is the X-ray and 5G is MRI."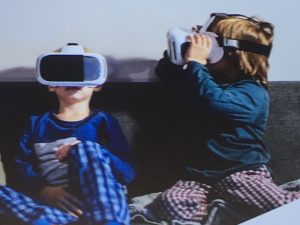 The Keynote speaker: Gina Bianchini talked about digital economy. She said: "People are willing to try something new." She discussed the network effects on mobile. She said: "Network effects start small and keeping people's attention for longer." She emphasized Professional networking and added: "Engagement is people connecting other people and the rest is noise." She discussed reading people's mind by machine learning and meeting people in real life and exchanging new idea. The next speaker, Amon said: "Digital economy was born with PC and now it has come to the mobile platform. By 2035, $12.trillion will be in goods and services." He added: "We can connect everything around us." About people's view on internet, he said:" If we want to choose between electricity, gas, water and internet, internet doesn't come last!" The next speaker talked about the adoption of new mobile technologies and how it is driven by supply and demand factors. He mentioned in the US, 4G coverage reached 90% of population in 2012, just in two years period. He discussed the upgrades within the LTE standard and pointed out that the key driver is network speed. He said:" it is early to anticipate the amount of investing in 5G networks and supporting infrastructure."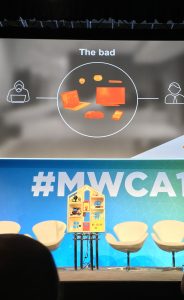 Any technology has both positive and negative aspects. There are some experts warning about the danger of 5G. According to the director of Autoimmunity Research Foundation in California, Professor Marshall: "The new 5G wireless technology involves millimeter waves (extremely high frequencies) producing photons of much greater energy than even 4G and WiFi. Allowing this technology to be used without proving its safety is reckless in the extreme, as the millimeter waves are known to have a profound effect on all parts of the human body." Other experts warned that the low level wireless radio frequency exposures biological effects are as follows: DNA single and double strand breaks, disrupting cell metabolism, reducing melatonin, disrupting brain glucose metabolism and stress proteins generation. According to the health advocates, the fifth generation, 5G, transmitters only work for short distances, requiring hundreds of thousands of bulky devices throughout the nation.
The panelists discussing cybersecurity talked about IoT devices, cybercrime and ransomware epidemic. They discussed the risk factors of IoT. The speaker said: "this constant fear of risky IoT at home is terrifying. He discussed Financial, medical and personal threats of IoTs, Implications of unsafe IoT devices, Regulations and "Digital Hygiene". Liwer discussed the risks of opening email attachments, using public wifi, IoT devices risks, using unsecured apps. He mentioned that still more than 70% use public wifi for their financial transactions. He said: "Hackers are there to make money and for them it is business." He added: "If the consumer is dumb to go to Alibaba and buy cheap Chinese camera to install in his kid's room, deserve to be hacked." The audience applauded. Cedering pointed out that some people consider the act of putting stickers on the webcams as a paranoid and added: " this is the wrong attitude." She mentioned the extent of harm of IoT and all the personal data involved is scary. "More than 50% smart devices in SF have problems and have vulnerabilities to be hacked." "The protection must be centered around the data." Yossi Atias said: "If you have connected device, always there's a risk ; some people have 200 devices." Jose Luis Agundez talked about consumer data and privacy. He emphasized the necessity of openness and mentioned we need a new approach to developing data driven products and services to build trust. He mentioned lack of end user visibility threatening the trust that is essential for a successful business. (C) CTR Press
September 11-12, 2017:
Women in STEM Conference 2017
San Francisco
Women in STEM is an annual conference to honor outstanding contributions that women make to the technological and scientific communities. Women in Tech, Engineering,Science and Math gathered together to discuss how to inspire a global shift in the attitude towards women in STEM. The panels and speakers talked about venture capital beyond tech innovation, emerging investing ecosystem, the next era of the human and machine partnership, cyber security and working for inclusion. The panelists talked about equal representation of both men and women in STEM and they discussed how it is essential for inclusive economic growth. The speaker pointed out that more than 80% of the jobs in 2030 will require technology skills and the number of women in science is 25% of today's workforce. The speakers emphasized the need for change.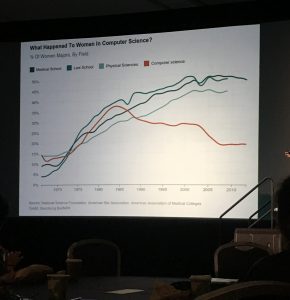 The panel discussing investing in series A and beyond explained that a competitive series A is an equity where a company raises more than $5 million led by a venture capital firm. The speaker pointed out that the valuations by some investors are functioning by users, revenue and market potentials; and some other consider "the comparable deals" as the justification for valuation. O'Keeffe discussed industry innovation on hyper drive. She explained how innovation happens. She emphasized the importance of focusing and radical collaboration. The speaker pointed out that an ecosystem of innovators who have a variety of point of views and even contrasting ideas is very important. She said: "CHILL was created in Cisco two years ago in Silicon Valley." She explained how they invited a variety of people with contrasting viewpoints to take part in the program. She mentioned that she insisted on participation of an ex executive that now lives in a caravan in nature (currently in Russian River). The speaker explained that he refused and said: "I am out." But she finally managed to convince him to attend in the program. The speaker said: "He brought wonderful and innovative idea to the group. And made the program a success. She emphasized looking for diverse perspectives.
She showed a video clip of the movie "Wonder Woman" and asked the audience: "What happened to the women in computer science? Women in medicine and in law?" She said: "In 1994 women in computer science were told they are behind their male colleagues."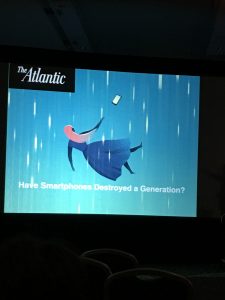 Perkins discussed human-machine relationship. He discussed AI, AR, VR, robots and cloud computing and how these technologies are capturing some developers imagination. He talked about the negative aspects of the obsession with technology. He pointed out that this unhealthy obsession resulted in less human interaction and subsequently less empathy. He talked about his daughter's internship in one of the giant tech company in Silicon Valley. He said: "she wasn't happy and complained the company's environment: she said: "not many women; mostly guys from India and Chinese boys."" He said: " And because of machine, the kids and teens' suicide rates and anxiety suffering have increased sharply. "They have no real communication and they are just on social media online." The speaker talked about the article in The Atlantic. "The arrival of the smartphone has radically changed every aspect of teenagers' lives, from the nature of their social interactions to their mental health. These changes have affected young people in every corner of the nation and in every type of household. The trends appear among teens poor and rich; of every ethnic background; in cities, suburbs, and small towns. Where there are cell towers, there are teens living their lives on their smartphone." The speaker pointed out that there are too much information and little analysis. He said: "This is scary, too much robots,…Elon Musk using millions of his own money to put pressure on UN for banning killer robots." (C) CTR Press
September 5-7, 2017:
Chemical Industry Regulations
Nice, France
The CIR conference was about connecting policy makers and the chemical industry to discuss regulatory strategies for chemicals, biocides, biopesticides and agrochemicals. The keynote panel discussed the process of politicization of decision making for agrochemicals. They talked about the role of European Parliament on European Commission proposals. The speaker discussed the intensive agriculture and how it can be good for the environment and business. According to the latest research, pro actively managing wildlife can considerably increase crop protection. He pointed out that high yield farming and high levels of biodiversity can coexist.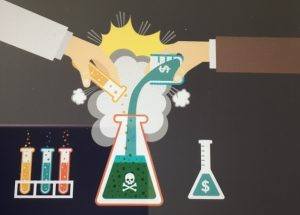 Dr Leaked talked about OECD expert group on biopesticides initiatives. The speaker explained the OECD involvement in the registration of biopesticides and the latest innovations. Biopesticides through parasitic or chemical relationships include different types of pest management. It involves the manipulation of living organisms. In the EU, biopesticides are considered as the pesticide that is based on micro organisms. It includes natural substances controlling pests and pesticidal substances.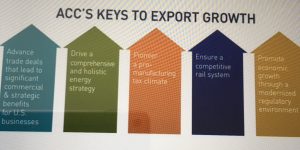 There are some worries about the effects of chemical exposures in humans. The researchers working on the health effects such as endocrinologist and developmental biologists study observation of the way chemicals affect living things. How pesticides are regulated will profoundly affect public health. The latest research by endocrinologists show that environmental exposures to hormone disrupting chemicals results in serious health issues. International Federation of Gynecology raised the concern about serious risk of toxic chemicals and the health problems on human beings.
The next speaker discussed regulation of chemicals and national laws and international agreements. He discussed the latest initiatives, strategies and conventions. He mentioned that responsible chemical management should be the objective. He pointed out that EU currently have strict regulations on protecting consumers and environment. He said: "chemical industry should be committed to improve chemicals management and chemical processes." He emphasized on the need for accuracy in chemical labeling. UN Economic Commission aiming to ensure the human and environment protection during the process of chemicals handling. Mereu explained strategies for data protection and regulatory frameworks for chemicals. (C) CTR Press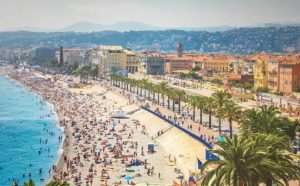 August 2017:
August 24-26, 2017:
The Art and Science of Dentistry Conference 2017
San Francisco
The conference was organized by CDA, California Dental Association. There were a variety of workshops, seminars and lectures designed for dental teams and general public. The lectures were discussing tele-dentistry, CBCT, endodontics, occlusion, health and fitness, healthy food and healthy living. Dr Carstensen talked about dental sleep medicine. He explained sleep physiology and the risks of obstructive sleep apnea. He mentioned that all machines designed to sense the breathing have communication system that monitors sleep behavior. He discussed the traditional sleep test and modern one, Orthognathic surgical techniques and Maxillary mandibular advancement surgery. He said: "Nasal airway surgery for opening up the passages and small change can make a big change." He pointed out that expiratory positive airway pressure cannot be used for the long time. He emphasized the necessity of knowing the patients well and their psychological concerns. He mentioned that one of his patients reacted sharply and said: "I would rather to die in sleep than using sleep machine for managing airway." The speaker discussed creating a system for calibration of the patient's airway by using a portable monitor.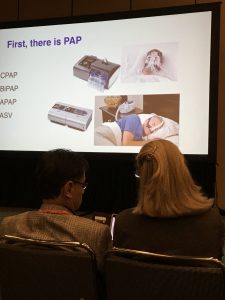 Kleive talked about the fun way to proficiency with digital dental photography. He explained and demonstrated how to take essential photographic images. Odiatu from Toronto talked about good night sleep, vitality and fitness. He began his speech with this sentence: "Energy is currency of life." And then asked the audience standing up and start dancing to a loud rock and roll music and imitating his dancing. The absolute majority of the audience followed his instructions. Then he talked about the power of a good night' sleep and how poor sleep cause lots of diseases including oral diseases. He discussed the ways of getting more energy and how to build oneself with what one eats and how one sleeps. He emphasized earning the right to have a better sleep. He mentioned 8 hours night sleeping is a must. "Sleep masks help to sleep better." He said: "Melatonin helps to sleep better and Children have lots of it." He pointed out that lights at night kills melatonin. "Light during the day, dim lights during the evening and total darkness during the night." He emphasized having TV in the bedroom is the worst habit.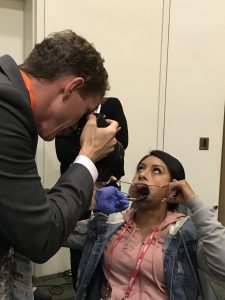 He mentioned eight points for having a better night sleep:
1. Cool dark room
2. No TV in bedroom
3. Warm bath
4. No food before bed time
5. No drink before bed time
6. Plain yogurt one hour before sleep
7. Exercise earlier during the day
8. Deep breath while the windows are open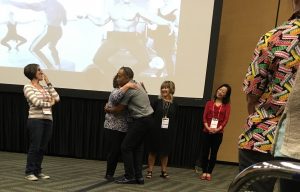 He mentioned that if you can't sleep think about what you like and those you love and three reasons why you love them. He pointed out that memories can heal or enrage and added: "think about positive things before going to sleep." Then he mentioned that he is a dentist and a Zumba instructor and asked the audience to stand up and dance Zumba and following his instructions.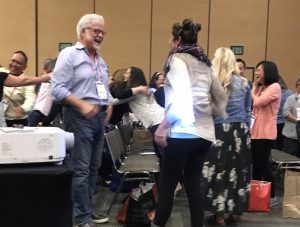 Mallonee discussed Oral health and nutrition. She explained Nutrition and diet difference: Diet is what you eat and Nutrition is what you get from diet. She said: "The nation is undernourished and educating the patients to decrease oral diseases is essential." Odiatu also discussed how healthy guts help us to enjoy a better life. He discussed how diverse gut flora supports healthy immune system, emotions and well being. He emphasized healthy eating and mentioned yogurt strengthen nervous systems. "Your bacteria is happy if you feel happy and vice versa." Bacteria affects the health like the genes. He discussed healthy bacteria and unhealthy bacteria and added: "All disease begins in the gut." He emphasized "Don't treat your stomach as trash can." He explained how to change human behavior by changing the diet. He quoted Dr Northrup saying: "Bacteria control cravings. Eating is the most intimate thing we do." He emphasized on eating fruits and vegetables and said: Bacteria is resting between 2 and 4 pm: no eating." "Pomegranate is very good for health and is one of the favorite fruits eaten by Persian people." He said: "We all have E Coli in the body but healthy people have strong immune system to combat the bad bacteria." "Bacteria communicates with the brain and bad bacteria causing feeling down and disease." He pointed out that by healthy eating we can enjoy great guts and boundless energy.
In the exhibition hall, the representatives from Christian Dental Society talked about how in 1963, twelve interested dentists organized CDS to provide free dental care for church related hospitals and clinics around the world. Representatives of CDA talked about California dental practice act and infection control and how Dental Board of California mandated continuing education in CDPA and infection control. California State Law requires licensed dentists to complete 2 units in infection control and 2 units in the California Dental Practice Act. (C) CTR Press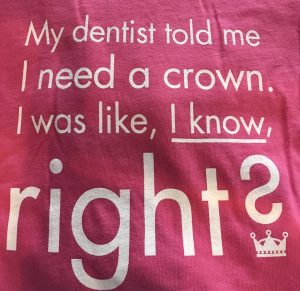 August 13-18, 2017:
DjangoCon US 2017
Spokane
DjangoCon US is an international conference for discussing the latest in Django web framework. Django developers and Django enthusiasts from around the globe discussed the details on diverse applications and the latest innovations. Django is a free and open source web framework that is written in Python with MVT architectural pattern. It is maintained by non profit and independent organization called DSF, Django Software Foundation. Organizations use Django from content management systems to social networks. It take care of user authentication, site maps and administrative content. Django encouraging rapid development and pragmatic design and is a high level Python Web Framework. Python is used throughout even for data modeling.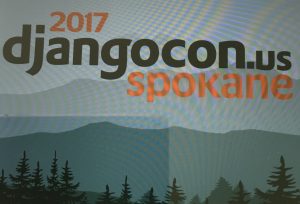 The speaker discussed accessibility concerns on the web and the both short and long term fixes. The speaker mentioned that some companies falling under accessibility laws that they may not be aware is covering their products. The speaker pointed out that accessible web development leading to better UX and more convenient user base. Ryan talked about the passwords and explained how awful passwords can compromise the accounts. The speaker mentioned that even a kid can generate mathematically stronger passwords than many organizations that have the credit cards details of their customers. She explained how strong technical tools can help clients and colleagues to build complicated passwords. The next speaker, Mays discussed featuring path applications of APIs. She mentioned that combination of Django and DRF make the API running easier. The speaker explained how they sharing data across the web. She said: "automated testing is an extremely useful bug killing tool for the modern web developer." The speaker pointed out that testing is an integral "part of modern software development."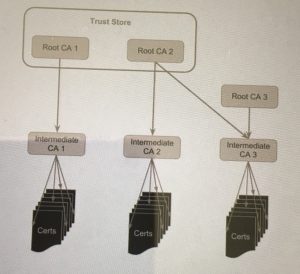 Jones discussed a new type of application architecture where traditional web servers "are replaced by ephemeral cloud services." He discussed how easy is migrating the existing Django CMS application for running AWS Lambda using Zappa. The speaker explained the scaling up the server less application "to trillions of events per year by the app distribution to dozens of data centers" around the world. Mesa talked about using Django for spinning up a Docker container to handle the feature required for the machine learning projects. The speaker pointed out that we can version our model from the docker container. With using Django we can bootstrap a machine learning project " removing what required to set up the project.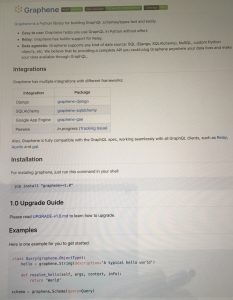 Godwin mentioned that the majority of the big projects crossing the boundaries into running application and sorting data across multiple systems. He explained how splitting up business logic and application codes for running on different servers and scaling different kinds of web traffic can define strategies for storing data across multiple machines. Flávio Junior said: "it is common to enforce PEP8 code style with tools like flake 8 and it is rare for Django projects using any other types of tools for the automated checks." He explained how to make developers to consolidate their knowledge as custom check tools. The speaker explained how Python with extensible liners and check tools can be used for writing custom static validations. He explained Django projects, CI tools and CI time for achieving good practices in development workflow. (C) CTR Press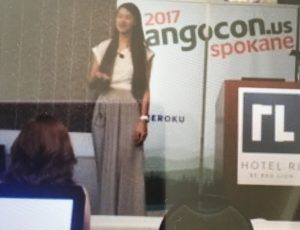 August 6-12, 2017
Inman Connect
San Francisco
Inman Connect conference brought together 4200 CEOs, real estate agents, brokers, MLS leaders, marketing executives and tech entrepreneurs to discuss the latest technology and innovations in the real estate industry. The event was organized by Inman that provides innovative information on the real estate industry to the real estate professionals from around the globe. Bennet from Google talked about getting the best ROI for the search investment. As it is common among people who works in Google, she started her talk with this sentence: "I am from Google." She discussed automation and machine learning in marketing and advertising and Google search for house hunting. She said: "Dynamic Search Ads is stop looking, start finding." She mentioned that Target CPA automatically bids towards critical signals and gave example: Target CPA=$10. She pointed out that each step in the process has a different value. The next speaker Argüelles emphasized on the necessity of publishing fresh, new contents and talking about community and becoming locally aware. Shapiro from Facebook put his emphasis on Instagram as a place for visual inspiration. He mentioned that 2 billion global users mainly on mobile device find inspiration on Instagram. He emphasized on searching for more opportunities to reach the consumers. He said: "Inspiration leads to action and high intends lead to the value. "75% of people take action when inspired by advertisements." During his talk when he was asking some questions from the audience, he said: "Raise your smart phones for the answer, not your hands!"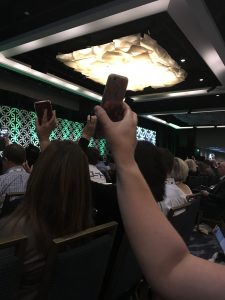 The Panel discussing the use of technology for achieving success in real estate industry talked about Zillow Instant Offers that ask home owners if they choose to accept an offer should continue the process through Zillow agents. They mentioned that Opendoor with this motto: "if your home is not sold we buy it" bought 400 homes in August and closed them in three days and commission fees were very high and how 3000 people experienced it. Daniel Ahmadizadeh, Riley CEO, talked about Chatbots, AI and its threat to the agents working in the state agencies. He emphasized that in Riley, humans are the best agents. Boero as the moderator compared Human power to the automation. He said: "The role of AI is for the time efficiency and the speed but we should not forget that the human involvement is a must."Raphael Bochner from SweepBright discussed creating and publishing listings on location and in no time. He said: "Publish your listings in one tap on multiple channels and on your own branded website; it can hit the market in minutes instead of days."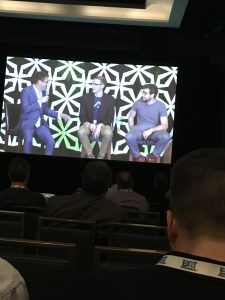 Smith From Scotland showed a video about refugees settlement in Canada and the process of creating housing for them. He said: "Two years ago I suffered a complete breakdown and I moved from being a pastor to the real state job and in Vancouver I started doing something for the community and advocating for the local businesses and refugees." Kleman, CEO Redfin, mentioned that each year they try to be more efficient with using the unique model. He pointed out that the buyers are less confident this year. He said: "Zillow is at the top and we are in the fourth place." He added: "We worry about Google and Facebook trying to dominate the market." The next panel discussed the power shifts in the real estate. DeLeon talked about the Discount model and said: "We are still bullish about Silicon Valley." Lenz said: "People are worried about the privacy; they don't want everyone sees how their bathrooms of their five million dollars house looks like." She talked about a house with the asking price of 250 million that was finally sold for 44 million. Brad Inman, the moderator, said: "the house bubble in Silicon Valley is crazy."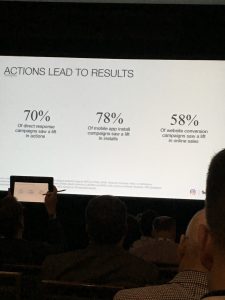 The next speaker, Vija Williams said: "I am talking about failure instead of success. Nobody is immune. The only red flag is the disengagement. To face the reality quickly and Engage, engage and engage." She added: "Self deception is the worst and always face the reality no matter how bitter is." She asked this question from the audience: "If your company hits by a crisis whom do you call?" She pointed out that when you are working independently you have to be amazing and being good is not enough. She said: "Our assets are our people not our houses." The next speaker, Ming talked about AI from the Neuroscientist view. She mentioned that only 130 million people in the world work passionately for the world and the amount is so small. The speaker said: "Zip code is a huge determiner." She talked about their projects in Berkeley for building a model to predict the future. The speaker said: " I built a super track to check my son's diabetes." She described how unhappy and homeless he was and lived several months in a car and how her life was transformed by studying psychology and neuroscience and finally joining Stanford. The speaker talked about analyzing the massive data for finding Predictive life outcomes and Building AIs to do what the companies doing by deploying AI tools.
The Mom and her son, the writer O'Brein and her son, Doubet talked about their personal experience of selling a house and how the bad experience motivated the son, a Harvard graduate to start his own company, Door. Inman said: "The crazy stuff happens in the industry that we should be ashamed of it." Doubet explained how his company works. He said: "Our agents are farmers not hunters. We create 3D images of the houses and we only receive the Flat fee of $5000 instead of 6% commission fees." Inman pointed out that in Canada talking regarding the commission is illegal. Some estate agents in the audience mentioned that the fees is so low for a $3 million house. The next speaker from Kiva explained that Kiva.org provides loan to the people in need around the world and asked people to lend the money to the needy people in the world and receive their money back with zero interest. In the exhibition area, the representative from Nextdoor talked about the process of creating a local page for real estate agents and the representative from RealMailers explained how the startup company works by designing, targeting and sending postcards to filtered homes anywhere in the US.
(C) CTR Press
July 31- August 1, 2017
Antibiotics and Antibiotics Resistance Conference
Milan, Italy
The 3rd world congress on antibiotics and antibiotics resistance was a worldwide and international science conference to discuss the future of antibiotics and the latest opportunities and therapies. Since its establishment in 2007 it has been an open access event for discussing science and technology. The attendees were research scholars, physicians, academics and representatives of educational institutions from across the globe. They gathered to discuss antibiotics in general with the focus on the antibiotics resistance. Antibiotics are drugs prescribed for fighting infections caused by bacteria. They are not effective against viral infections. Currently most bacterial infections in the world have become resistant to antibiotics, the more antibiotics are prescribed by the physicians the less effective are against the bacterial infections. A variety of panels and speakers expressed their concerns about antibiotics resistance and called it one of the most threatening to the public health. Also they pointed out that the smart use of antibiotics can be a solution for controlling the resistance spreading.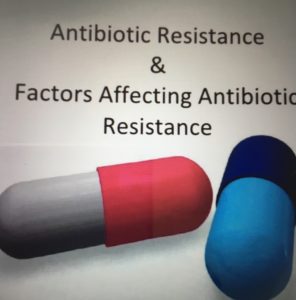 Dr Caldwell from the USA discussed the hollow fiber infection model for antimicrobial pharmacodynamics and pharmacokinetics. He pointed out that the success of antimicrobial therapies depend on the complicated interactions between the drug, the host and the infection. Minimizing the resistance, the appropriate antibiotics and doses should be taken by the patient; otherwise it may result in the resistant strains and finally a therapeutic failure. "Antimicrobial pharmacodynamics is the relationship between concentration of antibiotics and the ways of inhibiting the process of ectoparasites and microbial organisms." Dr Agnes from France talked about the antibacterial activities of recombinant and synthetic hepcidin. The speaker explained that antibiotic resistant bacteria cannot be destroyed by an antibiotic when the bacteria adapting the structure of antibiotics in such a way that preventing them from being destroyed by the antibiotics. "Bacteria can mutate and transfer genetic material that codes for resistance to other bacteria."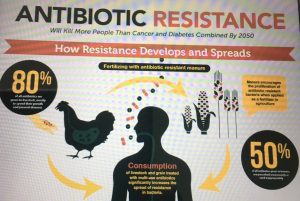 Dr Barbarossa from Italy discussed the antimicrobial patterns in small animal veterinary practices as the tools for drawing up guidelines for the appropriate use of antimicrobials in pets. Antimicrobial resistance is when a microbe resisting the effect of the medications and drugs that previously used to treat them. The next speaker pointed out that role of culture should be taken into the considerations. The spread of the resistant infections can be minimized by following the appropriate sanitation measures including the frequent hand washing by the patients and their family members. Dr Javier Martinez from Spain discussed antimicrobial capacities of plant extracts and pure polyphenolic compounds on intrahospital pathogenic species. The next speaker pointed out that overprescribing antibiotics can be the main reason for emerging antibiotics resistance in bacteria. A patient infected with an antibiotics-resistant bacterium may spread the infection to others. The speaker emphasized the necessity of prescribing antibiotics only when it is absolutely necessary. Unfortunately the current focus of the educational and medical communities is the treatment and the importance of prevention recommendations is usually ignored. (C) CTR Press
https://ctrcompany.com/ctr-press-reports/ctr-press/